As Sheriff, and on behalf of the men and women of the Green Lake County Sheriff's Office, I would like to personally welcome you to our webpage. Whether you live, work, or visit in Green Lake County it is my sincere hope that you will find our webpage, and the website, to be useful and informative concerning the Sheriff's Office and County. Additionally, we are always willing to listen to ideas about your needs and would welcome any suggestions you may have. Please take the time to look at some of the programs and services we have to offer you.
Thank you for stopping by to visit,
Sheriff Mark A. Podoll
Staff Directory
Mark Podoll – Sheriff
920-294-4134 ext 1160
Matthew Vande Kolk – Chief Deputy
920-294-4134 ext 1162
Kevin Manning – Patrol Sergeant
920-294-4134 ext 1154
Mike Prachel – Patrol Sergeant
920-294-4134 ext 1164
– Patrol Sergeant
920-294-4134 ext
Dave Cornelius – Communications Sergeant
920-294-4134 ext 1117
Lori Leahy – Corrections Administrator
920-294-4134 ext 1150
Sam Koscher – Corrections Sergeant
920-294-4134 ext 1136
Jenn Walker – Corrections Sergeant
920-294-4134 ext 1136
Sara Radloff – Front Office
920-294-4134 ext 1125
Rachel Heiling – Front Office
920-294-4134 ext 1126
Copy Link
Sheriff - Mark Podoll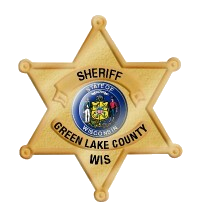 The Office of the Sheriff is historical, within our County, the State, and Nationally. The elected Office of Sheriff was created within the Wisconsin Constitution (Art.6, Sec.4) and his/her duties are set forth by statute (Sec. 59.26-59.33 Wisconsin State Statutes). Currently, the term of an elected Sheriff in Wisconsin runs for four years.
The duties and responsibilities of the Office of Sheriff are broad and far reaching. The Sheriff is considered the Chief Law Enforcement Officer of the County. The statutory responsibilities of the Sheriff include; appointing deputies, directing law enforcement services, deputy discipline, taking charge of the jail, attending to the Circuit Court, serve or execute writs and legal process, enforce the law, execute warrants, and transport prisoners. In Green Lake County the Sheriff also oversees the County Emergency Communications Center, illegal drug enforcement, and provides many other forms of public safety education.
Mark A. Podoll has been Sheriff of Green Lake County Since January of 2007. He was born and raised in Green Lake County and has committed his professional efforts for the benefit of all citizens. Sheriff Podoll is a 1980 Graduate of Berlin High School, a 1982 Graduate of Fox Valley Technical College, and has over 30 years of Law Enforcement experience from a City, Village, and County perspective. Sheriff Podoll is a graduate of the National Sheriff's Institute and is a member of the Badger Sheriffs' and National Sheriffs' Associations, and also serves on several committees at the state level which shape the future of law enforcement and emergency services in the State of Wisconsin.
---
The Sheriff is Mark A. Podoll.
Sheriff Podoll may be reached by phone at 920-294-4134
or by email at mpodoll@greenlakecountywi.gov
Copy Link
Chief Deputy - Matthew Vande Kolk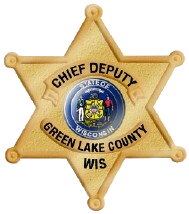 The Chief Deputy Sheriff for Green Lake County is a sworn law enforcement administrative position being second in command for the Sheriff's Office. Primary responsibilities for this position include supervising and assisting in the planning and direction of all department activities, evaluating operations, and recommending and implementing improvements.
The Chief Deputy assists in the development of the departmental budget, purchasing, grants, monitors expenditures and revenues, and initiates budget transfers as needed. This position is responsible for media relations, Courthouse Security, Crime Stoppers, Sheriff sales, and serves on the Green Lake County Highway Traffic Safety Commission. The Chief Deputy is the primary supervisor for the Detective Division. This position also assists in hiring, termination, promotion, selection, discipline, and reviews performance of employees'.
In the absence of the Sheriff the Chief Deputy reports to the Green Lake County Board and any required committees.
---
The Chief Deputy Sheriff is Matthew Vandekolk.
Chief Deputy Vandekolk can be reached by phone at 920-294-4134 ext.1162 or by e-mail at mvandekolk@greenlakecountywi.gov
Copy Link
Communications
Green Lake County Communications Division
571 County Highway A
Green Lake, WI  54941
Phone Number:  920-294-4000
Fax Number:  920-294-4192
If you are experiencing an emergency, ALWAYS dial 911 
Copy Link
Corrections - Administrator Lori Leahy
Green Lake County Correctional Facility
571 County Highway A
Green Lake, WI 54941
Phone Number: 920-294-4059
Fax Number: 920-294-4195
Administration Fax Number: 920-294-4191
The Corrections Administrator is Lori Leahy.
Administrator Leahy can be contacted by calling 920-294-4059 Ext. 1150
or emailed at lleahy@greenlakecountywi.gov
Copy Link
WI-VINE Victim Information and Notification Everyday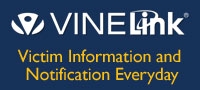 The WI Statewide VINE system is a service through which victims of crime can use the telephone or Internet to search for information regarding the custody status of their offender and to register to receive telephone and e-mail notification when the offender's custody status changes.
The VINE toll-free number for the WI Statewide VINE system is 888-868-4633.
This service is provided to assist crime victims and other community members who have a right to know about the offenders currently in the custody of the Sheriff's Department.
Copy Link
Records and Administration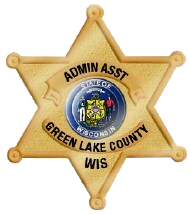 Records and Civil Process
Records

The Record's Division of the Green Lake County Sheriff's Office analyzes and assures that complete and proper information is entered into the Law section of the Spillman Public Safety Software System.  This is where officer reports are transcribed and inserted into the Law Records, and where case progress and dispositions are tracked. To obtain a copy of an accident or incident report simply e-mail
rheiling@greenlakecountywi.gov
 and if it is possible you will receive your response back via e-mail at no cost. If a copy machine or printer needs to be used it will cost you 25 cents per page.  Please include the name of the person involved in the case and as much detail as possible including the type of case, when it occurred, and if possible, the case number.
Civil Process

It is the responsibility of the Sheriff's Office to serve or execute according to law, all processes, writs, precepts, and orders issued or made by lawful authority according to Wisconsin State Statute 59.27 (4).  Fees for Civil Process can be seen on the fees schedule.  Information on Sheriff Sales can be found on the home page of the Green Lake County website. If you have any other questions about Civil Process, please call Rachel Heiling at 920-294-4134, extension 1126 or e-mail her at
rheiling@greenlakecountywi.gov
Copy Link
Green Lake County Crime Stoppers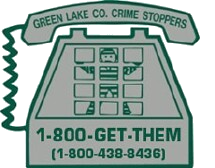 For more information visit www.greenlakecountywi.gov/crimestoppers
Green Lake County Crime Stoppers Incorporated, formed in 1993, is a non-profit 501c3 organization run by a board of 10 citizens. Green Lake County Crime Stoppers is a member in good standing of both the State of Wisconsin Chapter and Crime Stoppers USA National.
The Crime Stoppers board meets monthly at the Green Lake County Safety Building to discuss the organizations affairs, plan activities, and act upon rewarding tip information. Crime Stoppers is truly vested in service to the community by combating crime at all levels.
Programs operated by Green Lake County Crime Stoppers include:
Quick 50 Program in the Schools
Green Lake County "Most Wanted" for warrants
Liaison with Law Enforcement for the "Crime of the Week"
Mentor a safe community concept via promotional items at the County Fair, Community events, and parades.
How does Crime Stoppers work? There is always someone who has information that can help solve crime.Those are the people who can call Crime Stoppers anonymously and provide a tip that will help all police jurisdictions in the County identify those responsible. Crime Stoppers shares its tip information with all jurisdictions regardless of Village, City, County, or State.
In any investigation police and other law enforcement agencies encounter individuals who will not directly provide information. The three key reasons are:
Fear of reprisal
An attitude of apathy
Reluctance to get involved
Crime Stoppers breaks through these barriers by giving people the opportunity to provide information without directly speaking to the police or having to testify in court. Obviously investigators need witnesses to help prove their case in court, but most importantly they need information that allows them to zero in on a suspect or a criminal operation.Tips to Crime Stoppers does not give police the evidence they require to arrest an individual but puts them on the right track to solve crime.
Cash rewards from Crime Stoppers also motivate some people to call anonymously with information that will be vital to the police.However, you don't have to receive a cash reward if you don't want one. The important part is to call and do the right thing.
"Lets all be Crime Stoppers"
Copy Link
Lasting Impressions Forever LIFE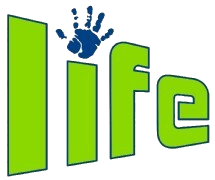 The Green Lake County Sheriff's Office, local Police, local government, and the schools take a pro-active stance in educating, understanding, and relating to the Counties students and youth. In 1993 a coalition of professionals came together to create the program formerly titled, "Resist and Prevent" RAP program. Similar yet different from other anti-drug public education programs RAP built the relationship between government, law enforcement, and youth by establishing good communications and a relationship. Being able to relate and communicate translates into a mutual understanding of three major life skills. These three major life skills, restraint, respect, and responsibility are the foundation of the now LIFE program.
Within a six week process, during the school year, full-time uniformed police personnel expose students to the role of the police officer. Students are also taught the dangers of alcohol, tobacco and drug abuse. Youth are instructed concerning skills on refusing substances, anger management, bullies and harassment. Internet safety also has become a valuable segment of the program.
While no program is 100% successful everyone involved with the LIFE program is truly committed to making a difference within the community.
Copy Link
Green Lake County K-9's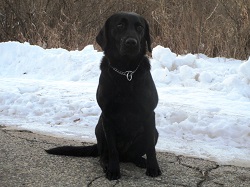 Meet one of your County K9's named Tess, a female black lab born in April of 2014. She was placed into service with the Green Lake County Sheriff's Office on December 18th, 2015. Originally from Minnesota, Tess was trained in Iowa specifically for controlled substance detection. Tess is formally certified in the detection of controlled substance odors including marijuana, hashish, cocaine, crack cocaine, heroin, methamphetamine, methamphetamine ICE, and ecstasy (MDMA). Her certification is recognized and admissible by the Courts. Tess is rewarded for her efforts with her tennis ball. Smaller in size, Tess is able to search tighter areas and compartments. Tess is permanently assigned to a Deputy as a team working daily patrol. When Tess is off duty she stays with the assigned Deputy, however, is available for call out 24hrs a day.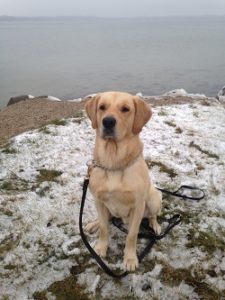 Meet Roky, also one of Green Lake County's K9 partners. Roky was imported from Czechoslovakia, trained in Iowa, and is now placed into service in Green Lake County. Roky is a male yellow lab, approximately 18 months old, and is trained in controlled substance detection and tracking. Roky is formally certified in the detection of controlled substance odors, including marijuana, hashish, cocaine, crack cocaine, heroin, black tar heroin, methamphetamine, methamphetamine ICE, and ecstasy (MDMA) the same as his peer K9 named Tess, same admissibility by the Courts. Roky is a passive indicating K9; upon detecting the odor of a controlled substance, Roky sits indicating his alert. Once the controlled substance is located, Roky is rewarded with his ball tug – and the game of tug of war is on. Roky is assigned to the patrol division where he is also available for service 24 hours a day.
The Green Lake County Sheriff's Office is committed to enforcing all laws governing illegal drug use, abuse, sales, distribution, and transportation. The Green Lake County Sheriff's Office is directly involved with the prevention of illegal drug use and abuse by means of anti-drug/informed choice education presentations from youth onward to adults. Additionally, aggressive enforcement efforts are pursued including the use of K9's, drug traffic interdictions, drug task force participation, and the promotion treatment programs offered by our anti-recidivism based Correctional Facility.
The K9 program run by the Green Lake County Sheriff's Office is funded primarily by donations including fundraisers. Citizens may help support the K9 fund by contributing directly to the program or with the purchase of the first of three in a series of collectable K9 dogs – while supplies last. All proceeds go directly to the K9 fund. Our first series K9, "Max", retired in 2015, is available with his trading card for $15.00 at the following locations:
Green Lake County Sheriff's Office
Berlin Police Department
Markesan Police Department
Princeton City Hall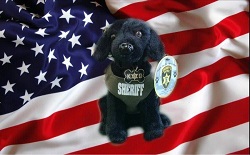 K9 demonstrations are available by request for your organization and may be arranged by contacting Sheriff Mark A. Podoll at #920-294-4134.
Thank you for helping support the "anti-drug" in your communities.
Copy Link
Traffic Safety Commission
Boat/Recreation Patrol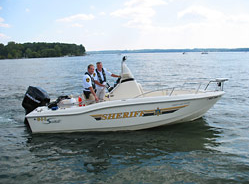 The Green Lake County Sheriff's Office operates recreation patrols within Green Lake County. These patrols place law enforcement staff upon snowmobiles and watercraft during their respective seasons. Deputies work with the Wisconsin Department of Natural Resources in patrolling the hundreds of miles of snowmobile trails and thousands of acres of waterways within the County. The Sheriff's Office issues approximately 60 citations per year for recreational offenses. The Sheriff's Office also participates in safety related trainings involving recreational vehicles.
Complaints involving watercraft, snowmobile, or all terrain vehicles (ATV's) may be reported to:
Green Lake County Sheriff's Office: Ph#:920-294-4000 or
Local Wisconsin DNR Office: Ph#: 920-361-0333
Snowmobile Safety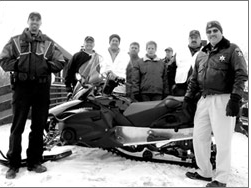 Stay On Marked trails. Your local snowmobile club has provided safe trails for you to operate your snowmobile. Accidents involving hidden objects under the snow or problems with private landowners have occurred when snowmobilers fail to stay on marked trails. Be alert for fences, tree stumps and stretched wire that may be concealed by snow. Respect the property of the landowners and stay on marked trails.
Road & Railroad Crossings. Always come to a complete stop and look both ways before crossing any road or railroad crossing.
Slow down. Speed is a contributing factor in nearly all fatal snowmobiling accidents. Drivers should proceed at a pace that will allow ample reaction time for any situation. Drive at moderate speeds, and drive defensively, especially after sunset.
Carry a first-aid kit and dress appropriately. Your first-aid kit should include a flashlight, knife, compass, map, and waterproof matches. Wear layers of water-repellent clothing and make sure you have no loose ends that might catch in the machine or tangle in equipment.
Bodies of Water. Avoid traveling across bodies of water when uncertain of ice thickness or water currents. Rapidly changing weather and moving water in streams and lake inlets also affect the thickness and strength of ice on lakes and ponds. Snow cover can act as a blanket and prevents thick strong ice from forming.
Be Safe, Wear a Helmet. Use a full face helmet, goggles or visor to prevent injuries from twigs, stones, ice chips and flying debris.
Never Travel Alone. Most snowmobile accidents result in personal injury. The most dangerous situations occur when a person is injured and alone. If you must travel alone, tell someone.
Snowmobile At Night. When snowmobiling at night, do not override your lights.
Who Can Operate a Snowmobile? Any person who is born on or after January 1, 1985 and who has reached the age of 12, must have completed and received a snowmobile safety certificate in order to operate a snowmobile in Wisconsin. The certificate must be carried while operating the snowmobile and displayed to a law enforcement officer upon demand.
Copy Link
Deputy Bruce Williams Memorial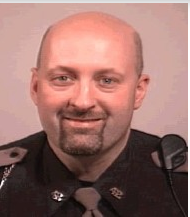 Bruce A Williams, age 38, of Berlin, died in the line of duty on Sunday afternoon October 19, 2003. Bruce was born on August 8, 1965 in Sparta WI. the son of Norman and Barbara (Jones) Williams. He married Valerie A. Belfeuil on June 11, 1994 at Saint Stanislaus Catholic Church of Berlin. Bruce graduated from Berlin High School class of 1984 and then went on to earn his Bachelors degree in Criminal Justice at the University of Wisconsin of Oshkosh graduating in 1989. He was a faithful Green Lake County Sheriff's Deputy for 14 years. Bruce played on the High School football team, basketball team, and also the Kiwanis and Legion Softball teams, and was an avid sports fan. He was a member of the All Saints Catholic Parish of Berlin, the Midwest Tactical Officers Association, the Wisconsin Law Enforcement Officers Association, and the Deputy Sheriff's Association. Survivors include his beloved wife of 9 years Valerie, his parents, Norman and Barbara Williams of Berlin, also his cherished daughters, Brianna, age 7, Kiersten, age 5, and Sydney, age 2, his brother Michael Williams (and special friend Donna and her sons, Justin and Brandon) of Fort Atkinson WI., sisters, Nancy Williams of Berlin and Michelle (John) Probst of Madison WI., his maternal grandmother, Adeline Jones of Sparta WI., Also his mother and father in law, Doris and William (Bill) Belfeuil of Berlin, also his brother in laws, Gary Belfeuil of Grand Junction, Colorado, Tim (Dawn) Belfeuil of Greenville WI., Chris Belfeuil of Spring Lake WI., and Todd Belfeuil of Brown Deer WI., also his sister in laws, Lisa (Wayne) Gustke of Berlin WI., and Angie (Kevin) Zarecki of Portage WI. Also nieces and nephews, Emily, Katie, and Ben Probst, Melissa and Andrew Gustke, Rachel and Alex Belfeuil, and Isaac and Tate Zarecki.
"A strong and caring man, a loving and devoted husband, a compassionate and involved father, a thoughtful son and brother, a wonderful friend and always a remarkable Deputy. The community suffers a truly great loss of an outstanding man. Bruce Williams will live on through his daughters and in the memories of those of us who were lucky enough to know and love him."
The Bruce Williams Memorial Trust Fund has been established at Farmers and Merchants Bank of Berlin number 17857 mailed to 123 West Huron St. and also the First National Bank of Berlin number 134498 at 140 West Huron St. Berlin, Wisconsin 54923
Copy Link